Grizzly/Topper New Jon Boat Models
VIEW OUR CURRENT JON BOATS INVENTORY
Grizzly Jon Boats by Tracker
Legendary quality. Legendary Performance. Legendary Value.
Why choose a jon boat from Tracker? Because the Tracker brand is synonymous with these three distinctives. And the lineup of Topper lightweight and Grizzly heavy-duty jons lives into that tradition. Offering truckbed models starting at 10′ and soaring all the way to the 20′ Center Console, Tracker's line of utility jon boats meet the demands of every need. So if you're fishing skinny water with little or no launch access or chasing 50lb. flatheads below a dam, there's a Grizzly all-welded or Topper riveted aluminum hull for you.
Topper® Riveted Aluminum Jon Boats
Tracker Toppers are lightweight, easy-to-launch, easy-to-load boats. Perfect for transport
in the bed of your pickup truck—no trailer needed. And perfect for ponds, small lakes, and creeks with no ramps. They'll get you to places other boats can't. Ranging from 10' to 15' in length and as light as 112 pounds, there's a Topper just right for you.
Models include:
Topper 1036
Topper 1236
Topper 1436
Topper 1542
Guide V-14
Deep V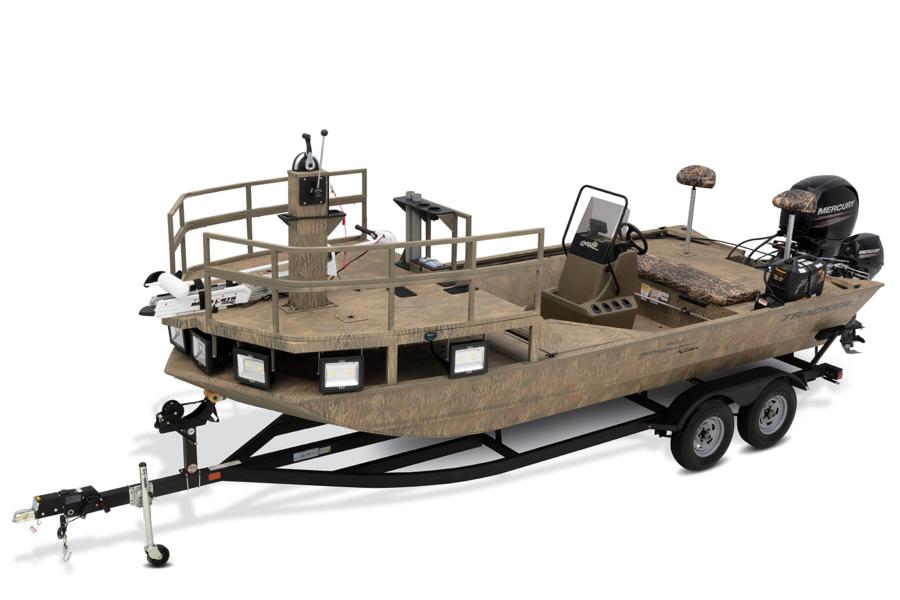 Grizzly® All-Welded Aluminum Jon Boats
Tracker Grizzlies are built to last. Heavy-duty, all-welded mod-v jons are ideal for work and for play. Whether as a boat by itself, or packaged with a custom-fit trailer, outboard motor, and steering console, Grizzly stands ready for duty. With wide bottoms for stability and stand-up bow platforms, Grizzly jon boats come in 14- to 20-foot sizes with maximum engine ratings up to 150hp. Specialized hunting and bow fishing packages are also available.
Take a look at all of the models:
14-15'
16'
17'
18'
20'
Boats
Only
1448 Jon
1648 Jon
1754 Jon
1860 Jon
Standard
Series
1648 SC
1754 SC
1860 CC
2072 CC
Hunting
Series
1548 T
Sportsman
1654 T
Sportsman
Bowfishing
Series
1860 CC Sportsman
2072 CC Sportsman
& Sportsman Kicker